So, not much of a life update for you guys. I literally just worked the entire weekend and that was pretty much it. Tomorrow is December 1st, which means Christmas will soon be in full swing. Newfoundland also got a lovely dusting of snow last night. So, right now it looks so nice outside and it's starting to put me in the Christmas spirit a little bit! So, I thought I would share with you guys some movies that can help put you in the Christmas spirit that you can watch while studying, or getting the house ready for decorating or anything really. Not in any real order, but lets take a look!
1. Rudolph The Red Nosed Reindeer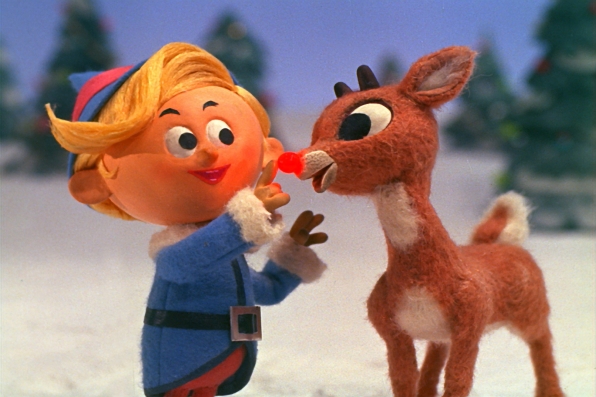 Love this movie, and it's perfect for getting anyone ready for Christmas!
2. Elf
Probably, an even better Christmas Movie to watch. It's so good and is such a laugh.
3. Dr. Seuss' How the Grinch Stole Christmas
I love this version way more than the old cartoon one. I can remember growing up and having to watch it every year in school and I think my school may have even gone out to see it in theaters.
4. The Polar Express
Not my favourite movie, but it doesn't stop making me love Christmas. It's actually one of my sister's favourites and it's pretty good. Plus Tom Hanks plays so many characters. Which is funny. Very heartfelt Christmas movie
5. The Santa Clause Movies
10/10 would recommend. They are so good. My family gets together every Christmas and watches one or all of these movies. They are so good. If they don't get you in the Christmas Spirit I don't know what will.
6. Christmas with the Kranks
This one I can remember seeing in junior high with my school. It's pretty good and it's so funny every time. I have even caught the boyfriend watching this in the summer time. It's also on Netflix so yes go watch!
7. The Life & Adventures of Santa Claus
If you're looking for an intense movie from the early 2000s, this is the one you'll want to watch. It would always play on TV growing up and it's pretty awesome.
8. The Nightmare Before Christmas
Whether you consider this a Halloween or Christmas movie is up to you. I consider it both. So, an awesome movie to watch if you want to take a bit dark of turn for the Christmas Movies.
9. A Charlie Brown Christmas
Since I can remember this was the movie that pretty much meant that it's time for Christmas. A lovely childhood classic.
10. It's a Wonderful Life
Every Christmas the movie that is watched Christmas Eve in our house is this one. It's the best movie for Christmas time. If you haven't watched it yet I would strongly recommend it. A movie that really captures the Christmas spirit.
Have a movie that I didn't mention in this list? Comment it down below! What movie gets you in the Christmas spirit that you have to watch every year? I'd love to hear!
Hope you all have a wonderful week and I will be back again on Wednesday with another Christmas themed post!
Jessie xx